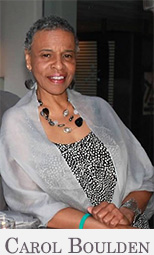 It is with deep regret that I inform you of Carol Boulden's death. She passed away peacefully Sunday after a long struggle with ovarian cancer. Her family was by her side.
We will miss Carol's calm disposition, kind heart, wisdom, strength and joyful spirit. She would want you to know that she truly loved working with each of you and with her MDS West team. Most importantly, she was an exceptional mother, grandmother and friend. Each of us not only grieves the passing of this tremendous individual but also for the loss her family feels. She is survived by her son Charles, daughter Carrine, their spouses and her five beautiful grandchildren.
In her memory, contributions can be made to the American Cancer Society.
"Amazing grace! How sweet the sound, That saved a wretch like me! I once was lost but now am found, Was blind but now I see… Through many dangers, toils and snares, I have already come; 'Tis grace has brought me safe thus far, and grace will lead me home."
~ John Newton